Upcoming:
Group Exhibition
Pet Shop 2024
Craft Victoria


Upcoming:
Artist in Residence
Guldagergaard International Ceramic Research Centre
Denmark


Group Exhibition:
Spring Equinox
2023
C. Gallery, Melbourne


Truss Study
2023
C. Gallery, Melbourne


Design Fair:
Melbourne Design Fair
2023
Melbourne Exhibition Centre, Melbourne



Group Exhibition:
FLORA
2023
C. Gallery, Melbourne



FLORA reflects the historical obsession displaying wealth and status through the tulip. Through this exhibition, Lau showcases an interest in the canon of the historical vase through contrasting material directions. The two pieces in the exhibition, taking visual and cultural cues from the 'East' and the 'West', are totem vessels inspired by arrangements dedicated to the presentation of cut flowers. FLORA interrogates decoration and use and to a degree the line between arts and craft. Does taking the function away from an object question its existence? Or does it call to invite 'thingly' potential?.




Design Fair:
Sydney Contemporary
2022


Solo exhibition:
A road that runs along the earth
2022
C. Gallery, Melbourne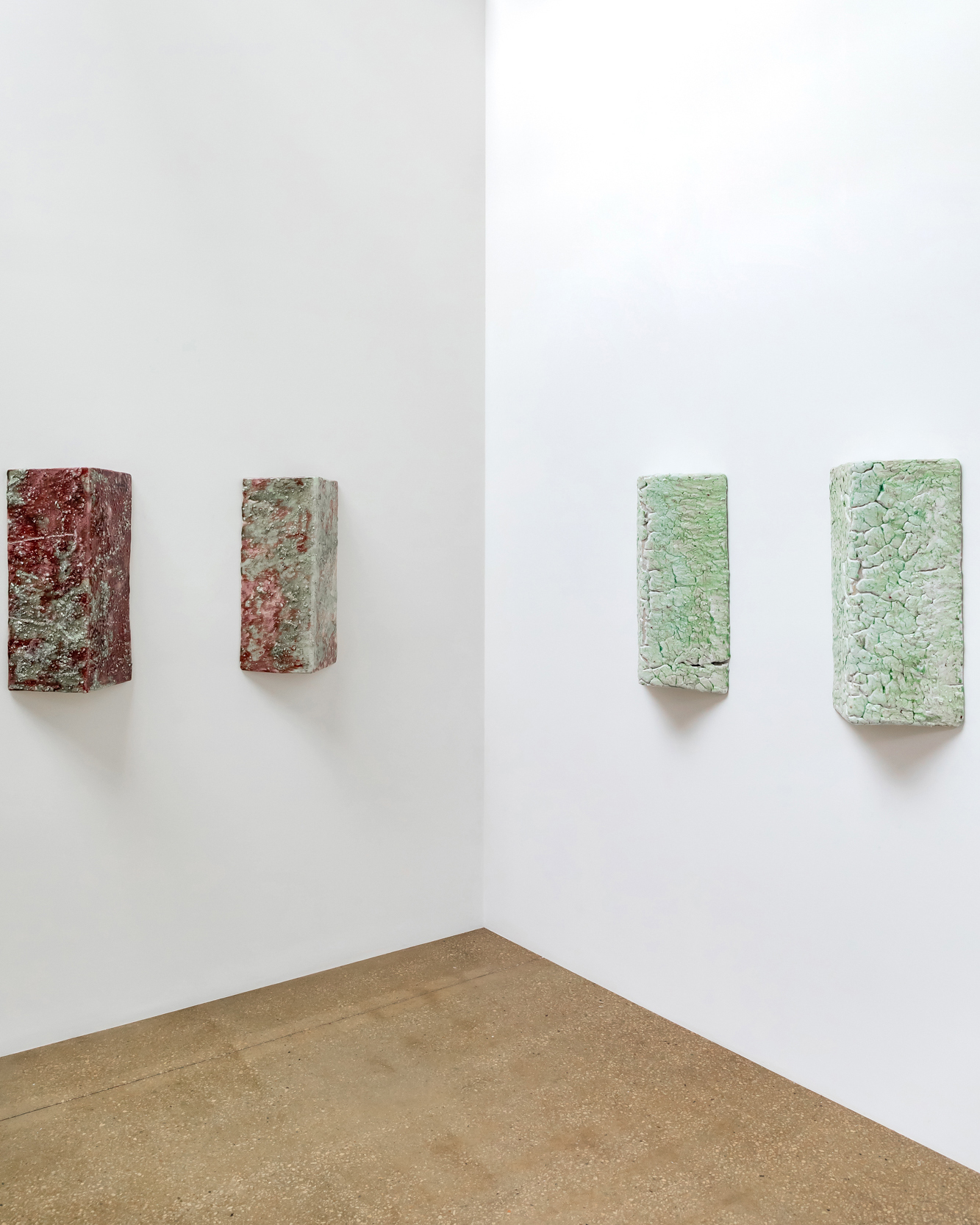 In A Road that Runs Along the Earth, Lau presents ceramic wall works across several formats and production techniques. This series of work explores ceramics as maquettes for monoliths, questioning both function and monument. Affixed to the wall, these structures become removed from their utilitarian assumption of domestic ware, remotely moving towards 'painting'. An unintentional cryptic fluctuation between minimalism and abstract expressionism, glazing becomes a site for testing colour through process. What seems repetitive through series is broken through hand building, unique through subtle variations and treatments.

In grounding harmony to Lau's ceramic wall works is Water Stone, a large-scale work that evokes the close relationship between interior and exterior space. Water Stone is a vessel, an interpretation of traditional stone basins used to collect water in Japanese gardens. It is a stone built of stone, designed to sit quietly in its landscape but also harness nature to create a thing of beauty and function. Lau's presentation upends the conventional notions of ceramic utility and form, both literally and metaphorically moving the pieces to eye level to create a new interrogation of finish and form.








Group exhibition:
Self Portrait by Friends & Associates
Melbourne Design Week
RMIT Design Hub
2022

For Melbourne Design Week 2022, Friends & Associates invited me to produce a self-portrait. After spending the last 18 months directly and indirectly self-reflecting, many of us have been challenged in our understanding of who we are. This exhibition invited me to take a step back from previous bodies of work and create something that was an image of myself in that very moment. Hidden Structure is a series of 18 frames focusing on a purposeful framework for observation and contemplation uncovering 'hidden' processes. Ceramic practice, glaze material research and intersections between sets of testing provide the background for my material language. The arrangement of individually glazed frames reflects my systematic approach to ongoing learning and understanding.

The ceramic medium is my way of discovering and reflecting on my relationship with nature. Domesticity is explored as a consistent theme in my practice, with focused views on tableware and objects. Asian traditions and ceremonial settings, specificity and particularity create purposeful places for cherished items. I believe that this culture of cherishment and value for the objects that surround us are key to an ethical and sustainable practice and way of existing. Through an embedded respect of the space and relationships that contain and surround objects, the arrangement of individual frames in my work provides cabinets for observation, contemplation and belonging as manifested tropes.

Each piece was constructed using clay slabs and glazes with a systematic approach to exploration in material chemistry. Often this is overlooked as a hidden process of my practice, yet it provides the foundation for my personal understanding of materiality. My approach to thinking and systematic working in a space where there are endless possibilities is found through series testing and re-evaluation. It is the process that leads to a conversation on the subtle shifts of raw materials. Drawing from my test results, from line and square blends, test materials and glaze traditions of copper, ash, shino and the intersections between, the components of Hidden Structure form a quiet sensibility that reveals itself upon closer inspection. Each surface reflects a curiosity interrogating and unpacking nature through a shift in materials. A palimpsest is created through subtle shifts of repetitive reproduction, each object bearing traces of past process, mirroring of nature in an appreciative rather than imitative gesture.



PARCS
Oyster Shell glaze and plates
2022



Exploring the life-cycle of oysters through food and ceramics. A family of Oyster plates designed to the characteristics of the (Saccostrea glomerata, Sydney rock) species. Oyster shells are collected from PARCS Melbourne and cleaned to remove algae. Oyster shells contain high levels of calcium carbonate, an ingredient in ceramic glazes and contribute to developing a matte surface texture. The shells are calcined by bisque firing (1000 degrees), breaking down into a powder. Red gum ash from the wood fire of PARCS sister restaurant ARU is also collected. It is sieved, washed and then used as an ingredient in an additional glaze layer in the pools of the plates. Combinations of raw materials and their proportions are methodically tested to produce different glaze surfaces. The final glaze contains 17% of the calcined oyster shells. The clay body is made entirely from collected and reconstituted clay from previous and failed projects.


HOUSE EDITIONS
Founder and director
2022 - Present




House Editions is a ceramic design and production studio offering select pieces of 'the refined domestic', both strong and fragile in their beauty. Bending classic and traditional ceramic processes, our technique straddles the unique and the modular. Handcraft is important to us as our practice looks to a sensibility built on centuries of culture and an exchange of tacit knowledge.
House Editions continues the porcelain tradition of Jingdezhen to construct a conversation between the preservation and the reinvention of classic motifs, building new relationships between the established and experimental. Our system uses traditional materials and techniques with an edge of contemporaneity, resulting in elevated everyday editions.